**This post contains affiliate links to products that I personally use and promote. To learn more, please refer to my disclosure page.**
We are in single digits to Christmas. I repeat. SINGLE DIGITS.
What are everyone's plans?
Travel vs. Staying put?
Christmas Eve celebration vs. Christmas Day celebration?
Cooking a meal vs. Ordering in?
Can't wait to see snow! vs. I'm so glad we live in the South?
Time spent with family vs. Chilling with my dog?
Do tell.
Christmas will be looking a little bit different for me this year. I am so blessed to have new employment with a company that values work- life balance and I will be able to go home to Ohio for an extended period of time! I haven't been back for Christmas in a few years, so this is a big deal to me. Secondly, a lot of life change has happened within the last 6 months. I don't plan on sharing too many of the specifics, but I do hope to share what I've learned from the transition thus far and highlight some growth points that I think people going through the same season may appreciate. I think that may be a good post to share in the new year, yeah?
With the whirlwind of which has been my life, I ask that you extend some grace. I have been completely MIA for some time and it has taken me much longer than expected to get this gifting guide out to you. I don't feel too bad because I know there are others that operate like myself. We will be shopping up to the last minute, so as they say, "it's better late than never."
When putting this gifting guide together I tried to be very intentional in identifying practical products that can be easily incorporated into a daily routine. They may empower the recipient to invest in themselves or serve as the agent that drives someone to be more conscious of the choices they make that impact others or our environment. Either way, I think that all of these products do a lot of good! I have personally used each item on this list and can back the quality and effectiveness. There is a little something for everyone, so take a look!
Personal Care
Norwex Makeup Removal Cloth Set
I try my best to forget my cleaning habits prior to discovering Norwex and that is inclusive of my skin care routine. The Norwex Makeup Removal Cloth Set is something that I now use on a daily basis. I create less waste by eliminating cleansing wipes, cotton balls, plastic waste from traditional bottled makeup remover, etc. and remove makeup and gunk from my pores by simply using water! Want to know how? Read up, here! If you want to explore other great products from Norex's collection, check out "A Norwex "Top 5″ Review."
After using the Norwex Makeup Removal Cloth I use the Exfoliating Face Mitt to remove dry, dead skin cells from my face. The mitt has two sides, one composed of a suede- type material that further removes any makeup that is missed with the cloth and the other side is slightly abrasive to rid the top dermal layer of your skin of those unwanted dead cells. Remember, no other products are needed in the use of the cloth and the mitt, only water. My skin feels so soft and refreshed and ready for cleansing after using this duo. A small investment that yields great results!
The Algenist Firming & Lifting Collection
I've discovered that in your mid- to- late twenties your skin… changes. That being said, at 26 I started doing my research on natural, sustainably produced products that were going mitigate and hopefully prevent some of the unwanted change I was seeing on my face. Within three days of starting this collection I noticed a visible difference in the elasticity and vibrancy of my skin. Some of the fine lines by my eyes and marionette lines were smoothed out and I noticed a visible difference in the contour of my face. I have been using this collection for multiple months now and have found ways to avoid some (not all) of the costs that are associated with using a quality product. You can buy this collection at Sephora, which is what I would recommend if you're purchasing as a gift as it comes in a nice, boxed set. If you're looking to purchase for yourself, check out TJ Maxx and Marshalls. Sometimes you can find the products sold separately at a discounted price!
Who doesn't need a quality set of body lotions to combat the dry, cracked skin that comes about during the cold months? I personally love this set because of the rich scents and how nourished my skin feels after application. It's smooth, moisturized and I don't have to worry about feeling oily. Origins products are, as they put it, "mindfully formulated," which means that they are made with quality earth and sea ingredients and without parabens and animal ingredients (among other things). You can order this set straight from the Origins website or take a trip to your local Macy's. Right now, if you purchase directly from the Origins website and spend $65 or more, you'll receive a free Ginger Bath & Body Duo, which just so happens to be my favorite scent! Use the code GINGER.
Nutrition
Don't tell anyone, but someone on my gifting list is getting a HelloFresh meal kit subscription and I can't wait for them to try it out! Not only are these boxes great for simplifying a healthy eating experience, but they also bring people together! Grab a Groupon offer while prices are discounted for your mom and dad or your favorite couple. I promise you they will enjoy the experience as well as the delicious food! Disclaimer: Make sure to read the fine print when you order from Groupon. Only first time customers are eligible and you will need to inform the recipients of cancellation requirements!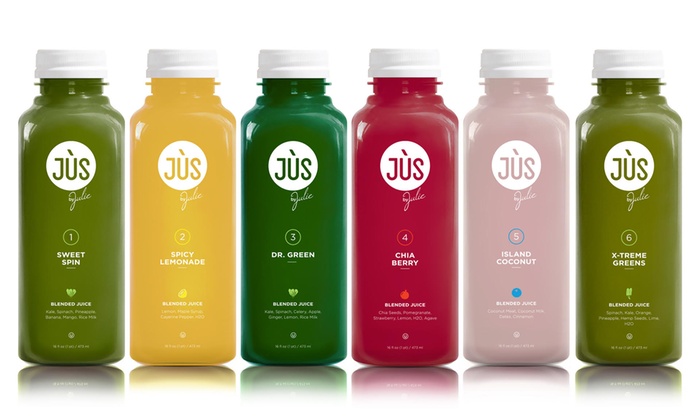 Jus by Julie Groupon Offer
If you have been following me since the beginning, you know that I enjoy an occasional juice cleanse and my juice line of choice is Jus by Julie. I've found that for the quality of the product, taste, and price, this line is superior to others. If you'd like to learn more about the Jus By Julie cleanse through my own personal experiences check out "Jus by Jule – A Review." If you're purchasing the cleanse as a gift, you want the recipient to be able to choose which date the juices ship out so they can plan accordingly for their cleanse. So, in the spirit of gifting, I do recommend the Groupon offer as opposed to ordering directly from the website (unless you want to purchase a gift card). It typically ends up being a bit cheaper, as well.
Trader Joe's Sweet Plantain Chips
It is no secret that I have a sweet tooth and I'm sure that you have someone in your life that has one, as well. I am the last person to cast judgement if that person just so happens to be you. Trader Joe's Sweet Plantain Chips are a tasty addition to a gift basket or stuffed in a stocking this Christmas. They are packed with complex carbohydrates, fiber, and vitamins & minerals and are a great substitution for many of the snacks and goodies we put in our bodies during the holidays. You just have to be careful not to eat the entire bag in one sitting! In addition to the sweet plantain chips, I am also a big fan of the jerk- style plantains. They both sell for less than $2 a bag (6 oz.).
Kitchen Essentials/ Healthy Home
Pyrex Glass Food Storage Container Set
I have finally phased out all of my plastic food storage systems and upgraded to the Pyrex glass solutions. I love that I no longer have to deal with embarrassing stained food storage. Aside from cleaning up extremely well, I love how this particular set stacks nicely in my cupboard and it also gets a 10 in durability (not that I've dropped them multiple times while washing or anything…). You can purchase this set on the Pyrex website, or, lean in to this little tip. You can typically find these at Marshalls, TJ Maxx & Homegoods in large enough quantities to make a set for cheaper than what Pyrex sells them for. Walmart also has a multi- color 18- piece set for a cheaper price, but if you're like me, my food storage (among a many other things) must be matching.
In 2019 I've really tried to be more conscious about creating less waste. In starting a new job and returning to an office environment, I've had to pack a lunch much more frequently and Russbe bags have eliminated my need for single- use plastic bags. They are made of durable plastic that is dishwasher safe (top rack) and free of BPA, PVC, latex, and phthalate. In addition to sandwich bags, the company makes snack- size bags as well as gallon bags that are great for meal prepping! You can purchase at World Market or order off of Amazon (many different colors/patterns available). This is such a practical gift or stocking- stuffer that can do so much good!
Reusable Utensil Set
Reduce single- use plastic waste one gift at a time by slipping a reusable utensil set into a few stockings this year! The pictured set was ordered for me off of Amazon, but you can find them in many different stores in a variety of different styles/materials/etc. The easy- zip case fits nicely in a purse or work bag for meals on the go, or can be stored in your desk drawer when you have to squeeze a quick meal in at the office. Purchase these for your co- workers and create a work environment free of plastic utensils!
Norwex Fluff & Tumble Dryer Balls
If I haven't made it crystal clear yet, I love Norwex and think it needs to be in all homes. The Fluff & Tumble Dryer Balls are one of my favorite products that Norwex offers. They are chemical- free and
made of 100% natural wool, which reduces drying time, static cling and wrinkles. Wool is also a sustainable resource and is naturally biodegradable. Pair these babies with your loved one's favorite essential oil to complete the gift. The essential oil can be applied directly to the wool to add a fresh scent to each load of laundry!
Physical Activity and Fitness
ACTA Inlux Legging
If you don't follow me on social media, you may be unfamiliar with ACTA- Active Wear with a Purpose. Let me introduce you. ACTA exists to motivate individuals to be their best both in and out of the gym. With each purchase, a portion of the proceeds is donated to a cause of the purchaser's choosing (mental health, water, hunger and sex trafficking). I have been an ambassador for this company for roughly a year and have purchased many of their products. Hands down, my favorite collection is the Inlux line which includes their buttery soft leggings. They are high- waisted, the perfect thickness for complete coverage when moving and bending and do not slip when running or doing high intensity training. To purchase the Inlux leggings or to view other great products offered by ACTA, visit their website and use code ToriSwain15 for 15% off!
Ever seen one of these in the gym and never had a desire to try it out? That was me until about 6 months ago. I've recently moved into an apartment and been utilizing the gym downstairs until I can commit to a new home gym. With more limited workout options than what I'm used to, I've had to be creative with what equipment is available to me. So began the love- hate relationship with the Bosu Ball. This piece of equipment is challenging and the diversity in the workouts is extensive! It can be gifted to someone who is new in their fitness journey, someone looking to vary their routine, or someone who is looking to take their training to another level!
Hydro Flask with Sport Cap
The Hydro Flask 21 oz bottle with the sport cap makes the list for a second year in a row! You truly don't understand how wonderful a Hydroflask is until you own one. The 21 oz bottle is the perfect size and fits nicely in my car's cup holder, in any cardio machine cup holder, and in the side pouch of my hiking and camera bags. It has a powder exterior coating that makes it easy to hold and the sport cap allows me to drink with ease while working out. With a 24-hour guarantee, I've never had a water bottle that keeps my drinks so cold, for so long! They can also hold hot drinks and keep them warm for up to 12 hours. This is the perfect gift for anyone on your list!
If you have any questions about any of the above products do not hesitate to reach out! Each one plays a part in my journey towards being my healthiest self as well as being consciousness of my environment and the wellness of those around me. I hope that you can extend the gift of health paired with some simple education to your loved ones this holiday season!
Merry Christmas and happy shopping!
Be Well,
Tori